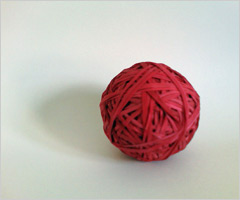 Making a rubber band ball is a complete experience. The powdery red of the rubber bands which the Royal Mail use these days; the almost leathery feel of them; that distinctive rubber smell.
And the sound! The creak as you stretch a recently collected band over the ball, and twist and stretch and twist and finally the snap! as you let go of the final loop—or it breaks under the strain.
Then there's the pleasure of collecting, of the glimpse of red in the gutter as you're walking home after a long day and suddenly your spirits lift because you have purpose.
It's something to do, I suppose.